college & university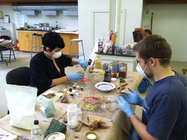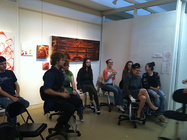 My teaching philosophy is inclusive, rigorous and dedicated to challenging
and empowering students. Visual and verbal language is crucial to the development of critical thinking. Deconstructing and exploring the seen and unseen ways language generates meaning in our world is at the center of discourse in my classes. I am committed to the highest standards of dialogue and critique- and to the amazing students I am lucky to teach.
---
current teaching
I am the first Practitioner-in-Residence at Lyme Academy College of Fine Arts, a College of the University of New Haven, in the university's focused BFA program. The school offers a foundation in materiality and method as a language for conceptual ideas, based in observation and figuration as a starting point. I've been teaching amazing students here since 2005.

Classes include *original syllabus
Core courses:
Painting Methods junior *
3D Design, foundations*
2d Design, foundations*
2D and 3D Installation*
Professional Practice senior core *
Senior Studio, senior core, thesis project and exhibition
Junior Drawing Projects junior core *
Elective:
Cultural Diplomacy through the Arts, Cities of Peace Foundation *(fall 2018- a service learning course)
Multi-Media Sculpture *
Egg Tempera *
I worked on the senior project as lead instructor spring 2016 and on the team from 2007 - 2019. I have in those years curated or assisted in the curation and installation of the senior exhibition, and designed the senior exhibition booklet. I served as Interim Chair of Foundation 2009-2010.
Check out
Lyme Academy
---
I am adjunct core faculty in the low residency MFA Program at
New Hampshire Institute of Art
, in Manchester NH, an amazing program with a rigorous pedagogy and a supportive dynamic philosophy. I teach Professional Practice, lead critiques, act as an artist mentor and thesis advisor.
I also teach curatorial studies in the MA program at Western Colorado University.
---
past positions
Adjunct Professor in the Art Department at
New Jersey City University
Graduate Master Critique, Professional Practice, and Undergrad Drawing 1
Adjunct Professor at
Purchase College
SUNY School of Art+Design
Undergrad Drawing 1
Visiting artist or lecturer at Purchase College, Purchase NY; University of Utah, Salt Lake City Utah; Kutztown University, Kutztown PA; Concordia University, Ann Arbor, MI; to name a few. I also develop curriculum and exhibition-based programming for museums and K-12. Click
here
for more info.