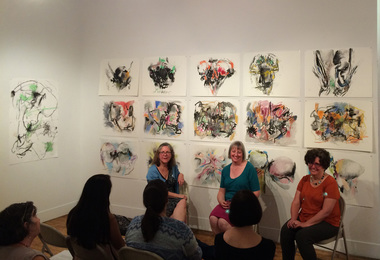 MapSpace Collaborative Workspace Residency
Drawing Sensation: TAYLOR/THEROUX
Exhibition on view September 12 - October 17, 2015
Miranda Arts Project Space is excited to exhibit the work from the sixth MAPSpace Collaborative Workspace Residency Program by Andrea Taylor and Margery Theroux. Drawing Sensation: TAYLOR/THEROUX, will features collaborative drawing and video by Canadian artist Andrea Taylor, and New Jersey artist Margery Theroux. Join us for an opening reception and gallery talk with the artists on Saturday, September 12th, from 6-8pm.
The artists will be joined for the gallery talk by artist and researcher Andrea Kantrowitz, PhD. Kantrowitz will discuss the collaboration with the artists, and connect the residency project with current research on the ways that artists, educators, scientists, medical practitioners, philosophers, engineers, computer scientists, and more examine the uses of drawing across Science, Technology, Engineering, Arts and Math.
Taylor/Theroux is a collaborative team who create drawings that address the body, and how awareness affects our perceptions about our bodies. They have been working collaboratively at Miranda Arts Project Space since August 12, 2015. Andrea Taylor lives in Vancouver, BC Canada, and Margery Theroux in Wyckoff, New Jersey, making their collaboration a process of mailing drawings back and forth. The residency will allow the artists to take the collaboration to another level, as they work in the same physical space for a duration of the month of the residency. The artists will incorporate actual body movement and GoPro head mounted cameras to both document the work and create video works that capture the dynamic of the drawing process in action.
The artists are inspired by Maria Lassnig's book "The Pen is The Sister of The Brush." Her diaristic writings about making liminal spaces visible inform their collaboration.
"…to want the impossible, to go beyond skill, beyond the security of the real, into uncharted territory-a physical feeling that is difficult to define visually, where does it begin, where does it end, what shape is it, pointed, curved, zigzag. To explore this is like trying to fence in clouds, to pin down nebulous realms." Maria Lassnig, "The Pen is The Sister of The Brush"
MAPSpace Collaborative Workspace Residency Project, implemented in 2012, is a workspace residency offering space and time for artists to create collaborative new work. The public can visit the artists at work throughout the residency, and the gallery will be open during the exhibition. Gallery hours Thursday-Saturday by appointment.
For more information, to set up a time to visit the residency, and for high res images: Contact: Patricia Miranda, Director, mirandaartsprojectspace@gmail.com
http://mirandaartsprojectspace.com/residency-program/drawing-sensation