museum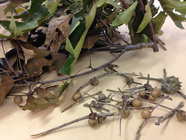 For many years I have been developing educational programs for museums, schools and community. For museums they are often connected to exhibitions, events, and other programs, as well as to curriculum used in the museum for both schools and the public. Programs are presented for adults and families, K-12 teachers, museum staff and educators. I also offer workshops and professional development on STEAM for museum staff and teachers.
Programs are interactive, hands-on, art-making workshops connected to institutional programming for exhibitions and collections. Utilizing interdisciplinary, experiential, and embodied learning, projects contextualize the materiality and creativity of artmaking within historical, technological, scientific, environmental and artistic frameworks. Thinking through making is foundational to my pedagogy.

I have developed and led programs at many museums in the New York area and beyond, such as The Smithsonian Institute; Washington, DC; The Solomon R. Guggenheim Museum; NYC; American Museum of Natural History; NYC; Wave Hill; Bronx, NY; Maker Faire, NY Hall of Science, Queens, NY; The Childrens' Museum, NYC; The Hecksher Museum, Huntington NY; Hudson River Museum; Yonkers, NY; Katonah Museum in Katonah NY; and worked with Karen Gorst on programs for the African Museum; Soho, NY; the Metropolitan Museum of Art and The Cloisters Museum in NYC.

Interactive, dynamic and as much fun for adults as children, programs originate in my interest in the history of materials, how they speak to us about history, science, art and so much more. The act of
making
with our hands brings connections to issues of community, politics, history, the environment and so much more. I am an endless student and passionate educator, who believes we have so much to learn from one another and our world.