I had the great honor and privilege to write the catalog essay for Lori Glavin's exhibition - The New Between at the George Gallery in Charlseton, SC. See the full catalog here.

Lori Glavin: The New Between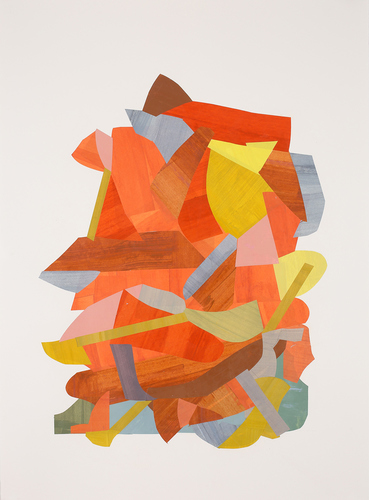 At first glance, Lori Glavin's work appears deceptively casual, with a modesty that belies its confidence and strength. This body of work pairs painted and cut paper collages alongside large-scale oil paintings on
canvas. The juxtaposition of hard-edged collages and gestural paintings highlights Glavin's central painterly concerns, lending the two genres a familial conviviality that might otherwise not be evident. Together they reveal an ongoing artistic dialogue in their penchant for awkward biomorphic shapes, unexpected overlap, crooked line, and masterful tertiary color. Glavin's facility with design, her ability to embed humor in a mark, and her use of chromatic neutrals in bolstering the complexity of saturated color, makes the works function beyond the merely decorative to an exhaustive investigation of painting languages.

Glavin's painting is indebted to abstract expressionism, to artists such as Joan Mitchell, Grace Hartigan, Perle Fine, and contemporaries like Amy Sillman, whose biting humor and direct design sense she reflects. The paper works draw from more cerebral domains of collage and print, which allows the humor to be sharper, the voice more distinct, while still maintaining the biomorphic nature of the shapes. There's a toughness in Glavin's design of invented space, concerns of the domestic are present without pulling the work into sentimentality.
While formally abstract, the work feels anthropomorphic, at times even gendered. The collages' bulbous forms in bubblegum colors sit in a field of white space, all bellies, nipples and protruding stomachs. They strut without concern for decorum, like gleeful, oversized children who have yet to discover a world that will divide them differently. Figurative without figures, they are emphatic and humorous bodies. They occupy a space of commanding whimsy born of the dexterity of Glavin's canny artistry.
The oil paintings engage in a more formal painterly discourse, they are looser, quieter, less ardent than the playful, hard-edged collages. While still whimsical and with pops of candy color, their softer transitions and gestural marks feel more explicitly feminine, with images inferring domestic environs, ancestral gardens and aerial fields. More landscape than figurative, yet near the collages they present like eccentric aunties, worldly and observant.
The mediums communicate differently, the collages in precise autonomous shapes, the oil paint viscous and expressive; the result is an engaging back and forth that maintains autonomy yet brings a freshness to each. The humor of the collages bounces to the oil paintings, while the paintings slow the pace of the collages. Colors are mirrored, shapes flip in scale and appear to jump from one genre to the next, changing just enough to suit the new environment. She anchors the delicate tertiaries with dense saturated shapes; a burst of cadmium orange in a painting becomes a vivid arm shape in a collage, a black elbow in a collage forms a fleshy dark square in a painting. This starts an unexpected banter – we are invited to participate moment to moment in the artist's private studio deliberations. Glavin peers over her shoulder at art history through a lens of specific domesticity, bringing abstraction as a story without a narrative to an acute sense of color and two-dimensional space.
Patricia Miranda, September 2017