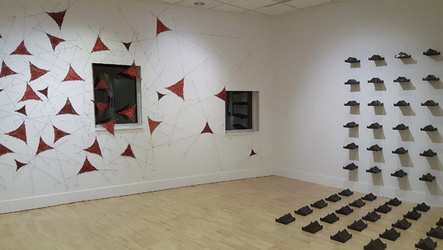 View and download Parallel Practices catalog here.
Parallel Practices
Western Connecticut State University
Curated by Lori Glavin and Patricia Spergel
JANUARY 25 - MARCH 4, 2018
Opening Reception:
Thursday, Jan. 25, 6-8 p.m.
Gallery Talk with guest curators:
Wednesday, Jan. 31, 6:30 p.m.
Closing Reception/Gallery Walk with the Artists:
Sunday, March 4, 2 – 4 p.m.
Participating Artists: Harriet Bellows, Matt Bollinger, Guy Corriero, Deborah Dancy, Fukuko Harris, Carol McMahon, Patricia Miranda, Elisa Soliven, Martha Tuttle, Alan Wiener, Mie Yim​
Parallel Practices showcases the cross pollination of ideas across different mediums and the unexpected variety of creative expression that often happens concurrently in artists' studios.
Visual & Performing Arts Center
43 Lake Avenue Extension
Danbury, CT 06811​